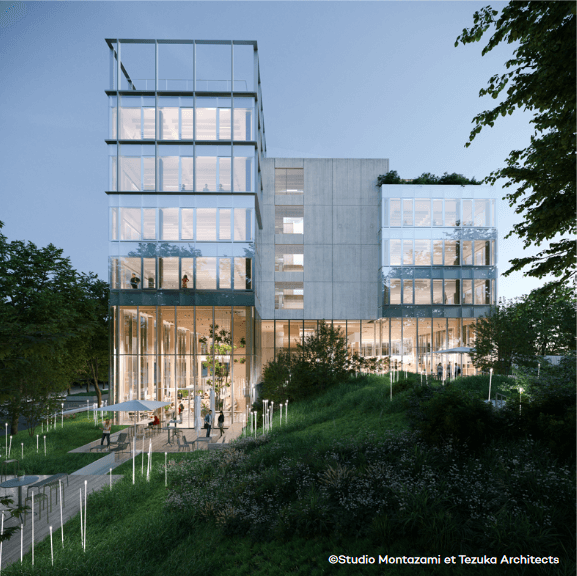 This 6,000 m2 building, the result of a remarkable partnership between Studio Montazami and Tezuka Architects in the heart of the urban district of Toulouse Aerospace, foreshadows new ways of working and experiencing the relationship between a company and the workplace.
Convinced of the benefits of nature to the employee well-being and performance, GA has teamed up with STUDIO MUGO to maximise the project's exposure to nature. The landscape is built around 4 key pillars: biodiversity, harmony, well-being and social cohesion.
The building is set on a biodiversity island. The gardens open on to an orchard mixed with medicinal plants, where residents are totally immersed in nature. In the background trees species from the region make up a peaceful and colourful garden. At the centre of this natural setting wooden terraces offer calming spaces.
The vegetation will penetrate from the outside into the lobby through an alleyway before climbing to the upper levels thanks to a green facade and terraces and all the way up to the highest terraces on the rooftops, which will be dedicated to biodiversity.
With multiple opportunities to enjoy nature the exploration of the landscape will stimulate all the senses providing a true sensorial experience.
STUDIO MUGO is very proud to support GA Smart Building in the design of their new headquarter!