Acquired by SFL in 2017, this iconic 60's building was designed on a 6,000 m² site by the architects Fernand and Francis Leroy as well as Raymond Lopez and Henry Pottier.
The SFL project combines the redevelopment of the existing building with the creation of a brand-new building on Emile Zola Avenue. STUDIO MUGO, Jouin Manku and Yrieix Architecture along with Bouygues Bâtiment Rénovation Privée have led a massive renovation project for a 25,000 m² area.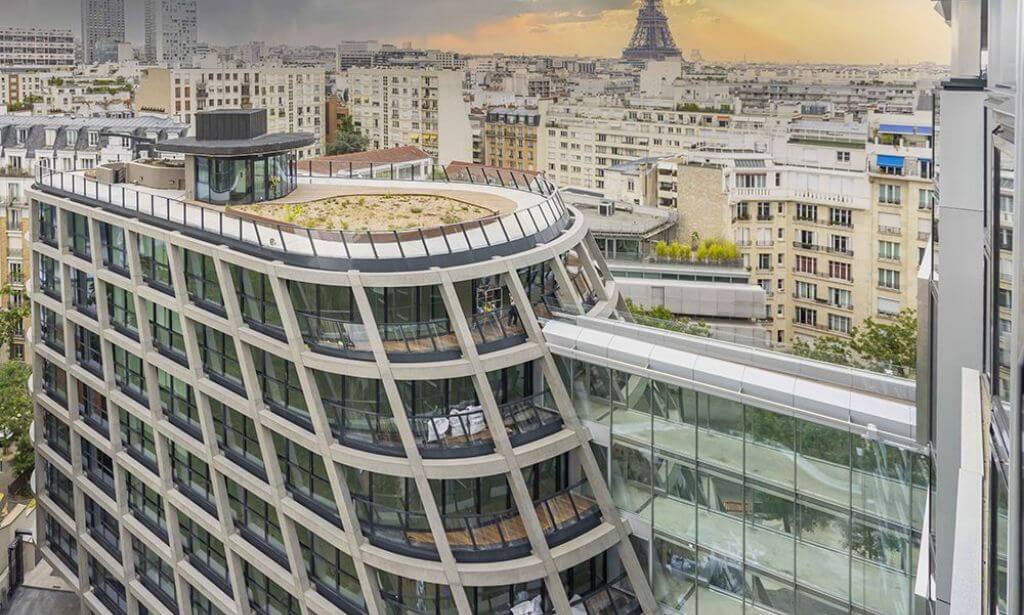 Redevelopment of the current office building across 10 floors
Construction of a new 7-storey building with a concrete exoskeleton structure and slanted walls connected to the other building via a footbridge
Design of a service-oriented green space open to the outside
Biome features 3,500 m² outdoor spaces, 2,500 m² of which are green spaces designed by landscaper Thierry Laverne and MUGO. This surface, which has no other equivalent in the French capital, doubles the size of the planted area with
A large garden of 1,600 m²
A patio of 200 m² favourable to nature and lights
Terraces covering up to 450m² with breath-taking views
Balconies at every floor
A "Brown Roof", an inaccessible natural space dedicated to wild plant diversity
These spaces feature 75% of regional plant species with 35 trees, 25 shrubs, and new flowering shrubs planted for the most part in- ground (below the surface) thanks to the creation of 300 m² direct seed planting areas.
Biome is a great example of ecological performance: growth of biodiversity with numerous planted spaces featuring regional plants, but also reduction of carbon footprint through the choice of materials, sobriety in the design and reuse of original assets. With such commitments the project aims to receive exceptional HQE 2015, BREEAM Excellent, LEED ratings, and the Biodiversity and BBCA renovation labels.
The entire building has been rented out to the Banque Postale and SFIL. Their teams are expected to move into the new site mid 2023 after the completion of the interior layout and design.
Client: SFL
Architects: Yrieix Martineau Architecture and Jouin Manku
Main Contractor: Bouygues Bâtiment Ile-de-France – Rénovation Privée
Landscaper: Thierry Laverne
Landscape Design  : MUGO
MUGO Project Manager: Fabien Longuy
Photo © Potion Médiatique – Élise Robaglia for Bouygues Bâtiment Île-de-France